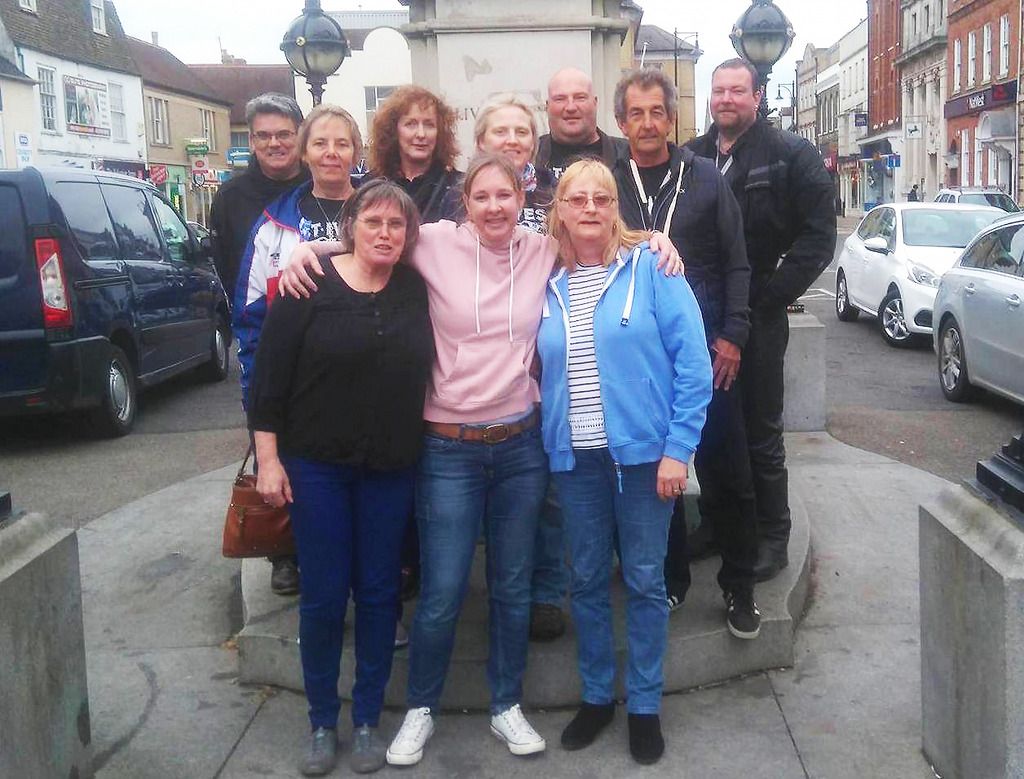 The St Ives Festival of Motorcycles committee just hangin' with Mr Steve Parrish, ACU motorcycle racing champion, veteran of inumerable TT races, holder of the Guiness Book of Records for Fastest Speed Achieved in Reverse (85 mph) and the most successful truck racer ever.
Also, infamous prankster:
He is permanently banned from the Chinese administrative region of Macau after blowing a brothel up with a home-made bomb made out of firecrackers, when several of his fellow riders were being 'serviced' inside.
He burnt down a toilet block in Poland.
He once posed as a medical doctor to allow John Hopkins to fly from Japan to the Australian GP.
He upset his fellow village residents by registering PEN 15 as his car number plate.
He once sabotaged a Mini Moke belonging to Team Bike, (a group of benefactors, mechanics, racers, journalists and helpers) by undoing every single wheel-nut to the last thread, in a revenge prank. The prank was discovered shortly before the vehicle was going to be driven off.
He once posed as Barry Sheene in a qualifying session when the two were team-mates, as Sheene had turned up to the session with a hangover. Parrish put on Sheene's helmet/overalls and qualified on his behalf, then put his own clothing back on and qualified further down the grid as himself.
Parrish owns an ambulance and has been seen using the ambulance to park on double yellow lines with the doors open in visits to his local bank.
He also owns a fire engine and once hosed down the inside of a friend's packed pub on a Sunday afternoon.
Steve appeared in Beadles About pranked by one of his best friends. Beadle launched a military assault in the back garden of the ex-champion motorcycle racer.
Source: Wikipedia
And he's going to spend the afternoon with us at the Festival on Sunday 25th June.