Hi,
Im selling my BMW E36 M3 Evo Cabrio reluctantly as I have a tax bill to pay!
This is part of a collection of E36 M3s I have and I will probably regret it but needs must.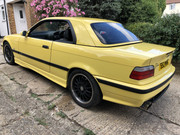 Registered 4.1.99
Im 7th owner (had it since May 2017, last owner before me had it since 2004 and was a lovely lady who was into her cars)
Scorpion exhaust
Bilstein suspension
17" Team Dynamic Wheels
Hardtop
Heated leather seats
Full electric roof (excellent full working order)
Previous MOTs
Toolkit
First aid kit
Glovebox torch
Warning Triangle
MOT until May 2019 (no advisories)
Tracker (needs activating).
Bodywork is ok, some signs of rust starting to appear on bootlid, inside passenger door where door sill is, and front wings. Underneath is very good with just minimal surface rust. Inside where battery and spare wheel is is clean with no major rust issues. It has had paintwork in its life before me ( not the best), but its a clean, genuine honest car.
Right now it has covered 197,000 miles BUT...........!!!!
I have an invoice for £4700 in December 2016 by Mr Vanos for the following: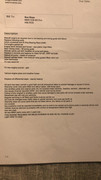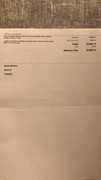 The car drives absolutely lovely, Vanos is quite and for a convertable, scuttle is minimal. I know these cars inside out and over the years Iv driven some dogs, this is not like that. Im not claiming it to be the best out there, what Im selling is a genuine car which with a bit of money spent (if you want to) can be a very very nice example.
Im located in Potters Bar EN6.
I have been as genuine and as honest as I can . Please pm me for any other questions.
Price is £7500.
I also have an original wind deflector and 4 M3 alloys which I purchased seperately if you are interested.
Click on the link below for many pictures. Apologies in advance that they are in no particular order.
https://postimg.cc/gallery/302tf4xbk/