Hi guys
Recently we've been asked a few times
"what's the difference between the £1788 Redish Subframe Repair, and other's at approx £700-£800"
.
I wrote this reply with some examples of the
extra
things we believe we carry out above other people's repairs.
Initially it went into a member's journal thread and when I realised, I decided to move it to a more relative location like in our section here.
We respect all other independent's processes and repairs.
This isn't designed to boast, or go chasing work, or talking down other people's repairs.
We quite simply offer the most comprehensive repair out of all the independent options, and therefore this answers the questions of differences between our priced repairs and other's priced repairs.
Quote:
Originally Posted by
robsouth
Not sure 100%, but I saw it as "Rolls Royce" standards of service, their plates are supposed to be better (they supply them to others), they fully document and photograph all their work piece by piece (then supply that "report" to you), fully resin as mentioned (but then mine appears to have been at least lightly resined), clean the car after finishing etc.

Other than that I think it might be a higher labour charge? When you think BMW wanted £3,200 for the job ETA have done, then it stacks up i.e.:

ETA @ £700 vs. BMW @ £3,200+
Redish @ £1800 for a superior service/job make sense.

If you have the £1800 and want the very best then it looks the right option. I didn't have the cash, so ETA has done a fantastic job for a good price.
Hi guys,
James here
This is NOT a "he's better, they're better, we're better" thing.
This is just answering the question of
"Does anyone know what Redish does for the extra £1k?"
It's a long question to answer as there are so many little things which all add up to a longer labour.
We remove & install the fuel tank & fuel pipe systems.
We remove & install the rear interior & boot
We degrease the entire Rear Axle Carrier Panel to rid the dirt so we can inspect for hairline cracks & spot weld failures
We drill out broken spot welds and replace with plug welds
We remove sealer on the left side lip to inspect for spot weld failures & micro cracking around the OEM MIG weld.
We stitch weld the left lip of the RACP to the wheel arch panel
We always use a pulse weld technique to reduce HAZ
We belt-sand down the failed spot welds in the left lip and replace them with plug welds
We drill through the outer RACP to expose the inner threaded platform and the plug-weld-connect the 2 pieces together
We weld the micro semi-circular cracks around the front threaded pins using a v-groove/channel for penetration
We remove sealer on the inside of the boot RACP area to check for RACP 'drooping' and spot weld failure (& weld if necessary)
We will remove surface corrosion from all locations on the Rear Axle Carrier Panel so that no rust is 'sprayed over' and/or hidden.
We now drill 4 holes in the boot & rear seat area to send a borescope camera inside the cavity to picture the inner upper OEM MIG welds which crack
We cut access panels & repair inner upper MIG weld cracks when found (at additional cost which the customer is informed about).
We use our own in-house designed reinforcement plates developed from examining new RACP's & old failed RACP internals.
We use our Redish Motorsport reinforcement plates to dissipate load into the vertical section of the RACP as opposed to small flat plates onto on the horizontal plane.
We are ALWAYS improving our repair (just this week we've managed to add a new inner connection method for older pre Feb 2000 cars with the older floor design).
We religiously use a zinc-rich weld through primer on the RACP bare metal & rear of the reinforcement plates before welding so there is never any bare metal.
We use either Wurth or Kent primer specifically designed for bare metal application
We can/do use POR-15 on the bare metal RACP floor for additional protection (charged additionally).
We dry every layer/coat of protection with 2 bodyshop UV heat lamps.
We use a high build primer on top of the etch primer
We use either Wurth, Kent, or Genuine BMW Sprayable Seam Sealer (via the correct pneumatic application gun) on top of the high build primer
We brush the Seam Sealer onto the weld lines
We use another coat of high build primer on top of the Seam Sealer, one dry.
We use either Sapphire Black, or the customer's choice (normally body colour) Base Paint to paint the entire Rear Axle Carrier Panel.
(You read that right, the customer can specify what colour they want the underside of their RACP).
(You don't have to have our Underside Restoration to have the colour of your choice on the RACP/floor, we now do this on every one of our Repair & Reinforcement Processes). (see pictures below).
We use Lacquer Top Coat on top of the Base Paint colour.
We use Cavity Wax inside the RACP cavities for added protection.
We use a light coat of transparent Wax on the exterior of the RACP on the weld lines & seamed joins for added protection.
We rebuild the entire underside by using a Nickel based anti corrosion paste for fixings & metal-to-metal contact.
We sometimes will use POR-15 on the metal brake pipes if deemed serviceable/possible.
We clean items as we rebuild the underside of the car.
We replace consumable fixings, jubilee clips, self taping BMW screws, speed clips, hose brackets, BMW grommets as standard where required.
We torque check every fixing (where accessible) with a Snap-On Digital Tech-Angle torque wrench.
We paint/chalk mark every fixing touched to know it's completed/safe (all staff have different colours for traceability should we need it).
We carry out a pre-determined 12-mile road test to check workmanship & safety after such a large repair.
We digitally wheel align the vehicle
We replace the entire brake fluid with a performance fluid like the now obsolete ATE Super Blue, it's replacement, or AP Racing 5.1 & bleed all 4 calipers.
We picture-document all stages throughout the week long repair, and supply a picture pack of approx 80 images (we must reiterate this is a free of charge service, and we always have a backlog of images to process as between the 4 staff here (all issues with iPhone 5S's) we take on average over 100 images per day of all the difference BMW cars we are working on. So it's quite common there is a delay issuing pictures - we're aware this needs to be improved and are putting a 5th (office based) staff member in place shortly to help with this)
We supply & install/inject the all important BMW Structural Foam into the Left Rear RACP Cavity using the correct pneumatic application gun
We
also
supply & install/inject the all important BMW Structural Foam into the Right Rear RACP Cavity using the correct pneumatic application gun
We supply an actual piece of the left over Structural Foam (in the tube) from the customers car as a sample, to keep.
We clean the interior and exterior of the vehicle with high quality detailing products & equipment from places such as cleanmycar & i4detailing: Snow foam pre-wash, jet off leftovers, iron-x to remove any rare contaminates, jet off, wheels washed with dedicated brush, lambs wool mitt wash in a grit-guard 2-stage bucket method, dry with a waffle-weave microfibre towel, tyres dressed, inside vacuum with mats out, inside dusted with fresh microfibre, inside fragrance with either air-con-bomb or new-car-fresh liquid/spray. The cleaning process itself is approx 3 hours.
Plus, initial 'Vehicle Health Check' at the start of the process.
Pictures & Estimate-pdf document emails at the start or the inspection process showing any potential issues or broken/worn items found
On average, a 3-4 hour personal 1-1 during pricing/booking, drop off & walk-around, phone & email through the week, and the extensive handover procedure with James.
Remember, this is just what we believe we do EXTRA, on top of other's repairs.
We are fanatical about corrosion protection and go further than anyone else to protect the inside cavity and exterior RACP from corrosion
We are fanatical about visual appearance (as well as structural integrity). We go to what some may consider extreme measures to make the finished process look extremely original, or better than OEM by using body-colour applications.
We don't trap corrosion underneath paint or wax.
We don't spray over brake lines or fuel vent pipes or other components. All components are carefully installed once the floor corrosion & paint protection system is dried.
These are the recent ones over the last couple of weeks.
Plus we're currently doing a Silver Grey, Titan Silver, and Blue Grey (RAL), and Laguna Seca Blue underside colours for customer's as part of their subframe repair - and the colouring is all part of the price!
This may look like cheap brush/spray-on underseal, but this is the 8-layer/stage corrosion protection program which comes as standard in all our repairs (as listed above) in Sapphire Black (CSL colour):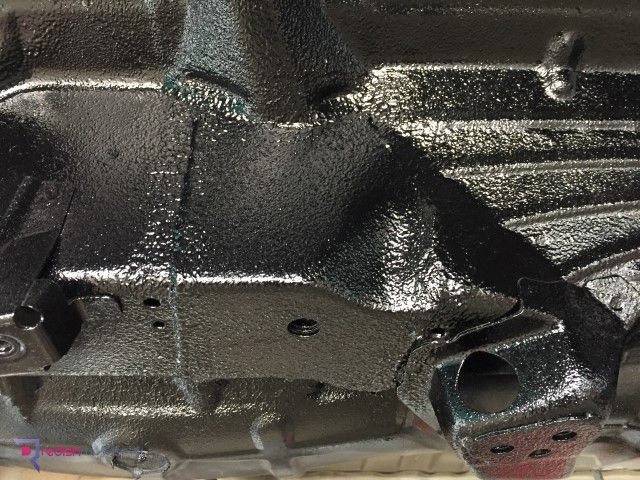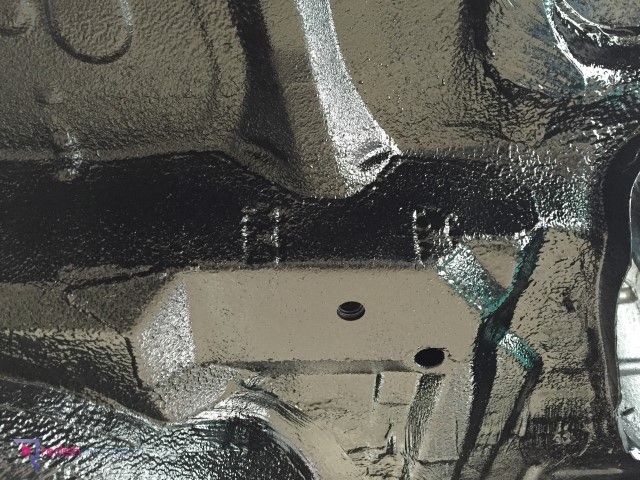 Plumb's E46 M3: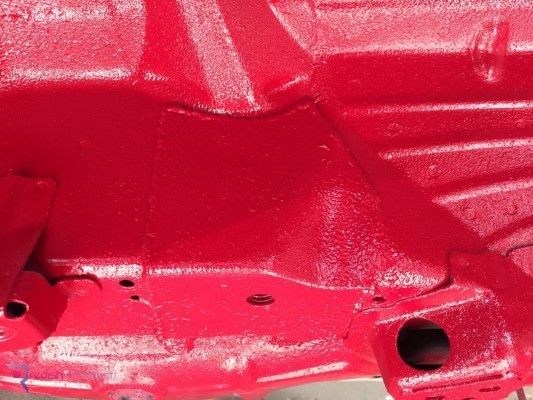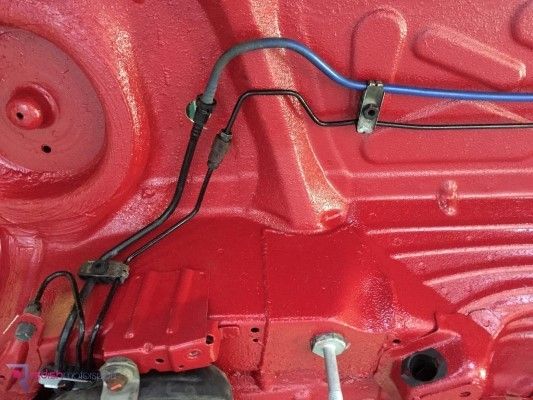 POR-15 example:
This isn't included in our standard £1788 package. This does cost more in labour time (call us on 01179 781889 for details).
This is pictured here to show an example of what can be added as mentioned in our list above.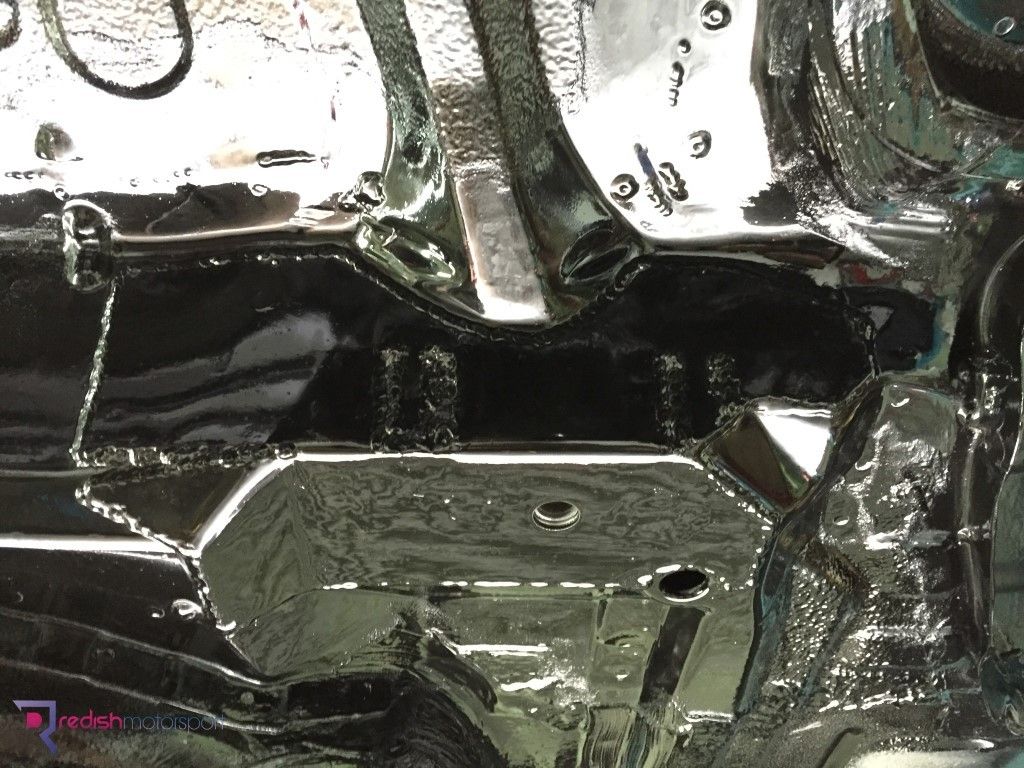 High build primer: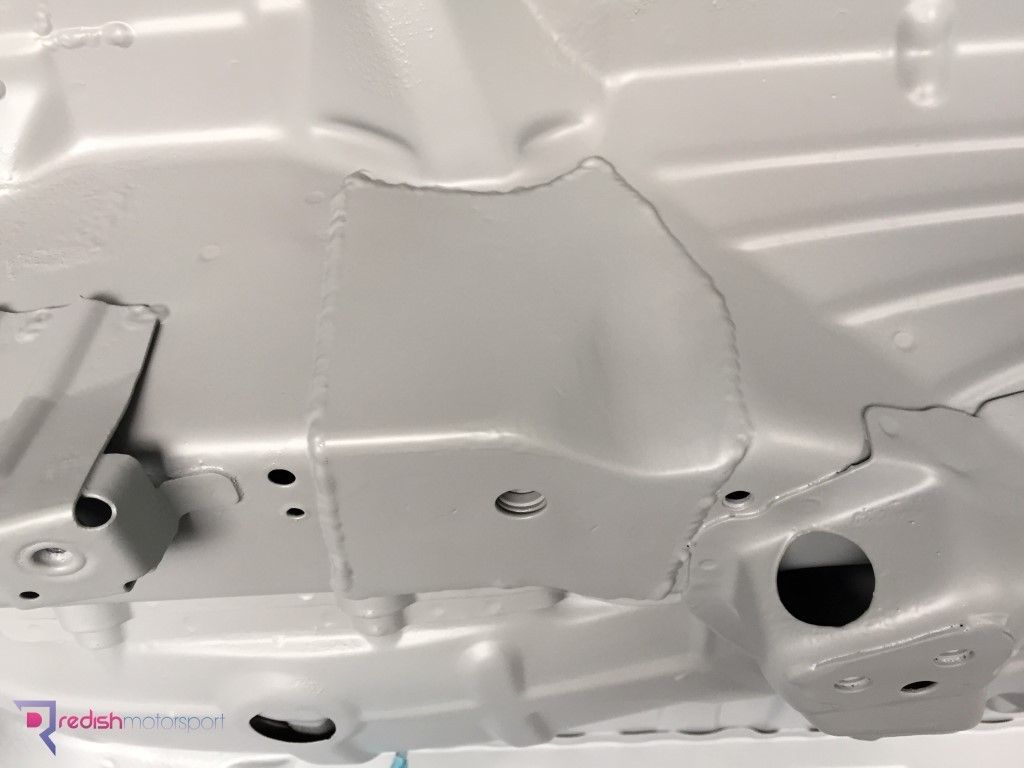 Spray & Brush seam sealer:
High build primer:
Kevin's: