Great work! I bought a new can of Pentosin too long ago. Still need to change it.
As you say, you can't just change everything at once. So you would need a few bleed/venting sessions to get all the old oil into the reservoir.
I also noticed you can do the venting a couple of times, with each time more and more air being removed.
Oh man being able to do this at home at any moment you need/want to, saves so much time and money.
I hooked mine up to DIS this weekend as well and did the readaptions. Not the bleeding as it's not needed atm.
Did you also check the clutch? If you go into the diagnosis section and select clutch, it will tell the state of the clutch:
"The clutch is okay"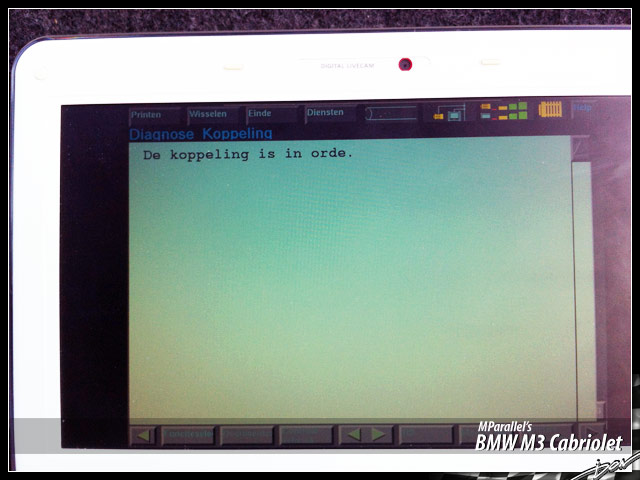 I checked but SMG1 has no specific clutch bitepoint adaption/learning option like SMG2. I guess it's part of the other adaption program.
I replace my accumulator not too many km ago. yes it makes all the differences.
I really enjoy the gearbox. It's not slow by any means. It's no DCT, but if you keep that in mind. If you floor it and don't even lift, shifts are fast.
Do you realise that full throttle is pedal to the kickdown and kickdown switched pressed?
I always thought it was just used in auto mode, but it actually switches to another mapping. Also when you check the TPS sensor readout in DIS, which I did last weekend. If you press the pedal down, but not the kickdown switch, it is 96% open. And with kickdown depressed, 100%.
If you haven't tested yet, do so and be surprised at the fast shifting.
Some guy over here, who's driving an SMG1 for over 10 years, told me the SMG1 even revmatches. I doubted as I have no documentation whatsoever that mentions this, but I have noticed in the past revs rising and that is before the clutch closed. He says the ICV is used for this. Plausible for sure.
As you say, SMG1 has no shiftspeed button like SMG2 so you can't have lighting fast shifts when driving like a nanny. I'm not even sure that would be a joy to drive.
I did have this brainfart. What would happen if the kickdown button was pressed, but the throttle not fully down (bridge the switch). Would it give an error or would it, and that would be a big one, go into its fast map and shift faster while not flooring it.
If that would even work, this would in theory mean you could make a switch to switch between 2 shiftspeeds. I haven't tested this yes, but that would be one major SMG1 hack never tried before.
Bottom line. SMG1 is great. It's a fun system and ahead of its time.